It was a gorgeous day today. And when I say gorgeous, I don't even mean 'gorgeous for Scotland'. No, no qualifier. Just gorgeous. And while I needed to get some reading done on Locke, it would've been a shame to spend the entire day inside. Instead I decided to enjoy a walk. And while out and about town, I saw one of the signs down one of the alleys that I walk past almost every day and don't usually give it a second thought.
Now, I'd heard of the Lade Braes walk, and that it was a pretty walk. But that was all that I knew. Well, it was a pretty day, and I was looking for a pretty walk, so that sounded like a good deal to me.
Whoever said that it was 'pretty' was using a serious understatement. First, for those who don't know the area, a little history lesson from the historical markers on the trail.
Years ago, a mill lade (stream) ran through St Andrews to the Priory. Built by monks, it provided water for households and power for watermills. The Walk follows the line of the lade which was piped and covered in stages between 1868 and 1893.

Today, it's a fine, varied walk along the braes (hillsides) of the lade from St Andrews to the open country of Craightoun Park. The two-mile route follows the Kinness Burn which fed the lade, but you can turn back into town at several points on the route and visit the Doocot or the Botanic Garden.
Tada, the Lade Braes walk. If you end up in St Andrews, it's a delightful stroll, and a surprisingly beautiful piece of forest and land that I wasn't expecting.

Ladebraes Lane, going behind South Street, before you cross Bridge Street into the walk proper. The wall to the right in addition to being the boundaries of the houses on the lane used to be part of the ancient defenses of St Andrews.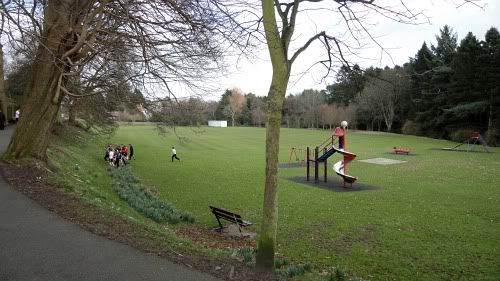 You walk and all of a sudden it opens up into the gloriously green park, complete with play area and football pitch. I had no idea this was out here.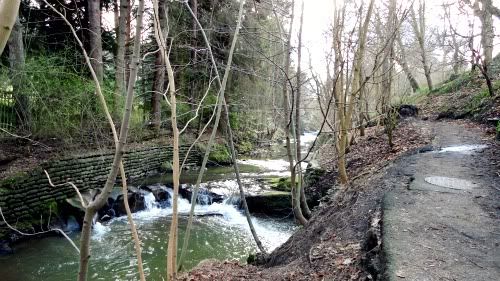 Majority of the walk follows by this fantastic stream and the first buds of spring. There are already huge patches of daffodils just waiting to blossom. I'll be out in another week or so just to see the explosion of yellow sure to come.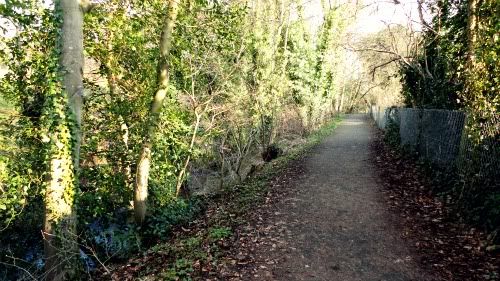 More pretty path as you make it to one of the old watermills at the end of the walk.



Speak of the devil -- look, an old watermill! From the path it looks like it's open, or at least not fenced in. I'll have to explore that next time.



Proof of why it was a good day to be out -- you don't get that many gloriously blue skies in Scotland. Although I am getting spoiled hoping for Spring now...