I had my birthday earlier in the week. While some people enjoy a big blowout, celebrating for days on end or what have you, I prefer it more low key on the day. It might have something to do with the fact that each time I've tried to do something major ON my birthday, something wrong happens. Usually something very wrong. So, I've taken it as the universe's suggestion that it's cool to do something birthday related before or after the actual day, but on my birthday, just take to slow and relax.
So I did just that.
What did I do on my birthday? Well, I slept in. Then went and had tea with Rachel, as she was out and about in town. And because it was a gorgeous day, I decided to walk to Morrison's for the fresh air. It being my birthday, I needed to treat myself to something.
How about some daffodils? Nothing screams 'welcome Spring' like daffodils. They are hands down my favorite flower because they start to bloom around my birthday. And just look at them -- you can't frown with daffodils.
And I couldn't resist fuchsia chrysanthemums.
But maybe I should be at least a little productive with my day.
I know -- I'll do some laundry. Nothing screams birthday festivities like laundry. But, if I do laundry, I'll earn a snack, from...
The awesome birthday box of American candy goodness that my parents sent me. Including another amazing March tradition that I thought I was going to miss out on... Girl Scout cookies. Oh yes, they mailed me Tagalongs all the way from the States. And they taste so good.
And of course, during all of this, I have atop my head the decoration that splits this apart from any other normal grocery store/laundry/snack kind of day.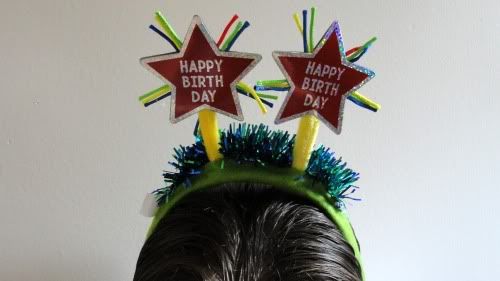 Well I had to have
some
sort of festive something, didn't I? Yet another wonder from the birthday box.
So it was a quiet day, albeit a slightly productive day. And now I'm another year older, and another year wiser apparently. And while people kept asking 'oh which birthday is it?' and I respond with a number higher than the 22 or 23 most of these kids around me have, as I inch closer to 30 I have to admit... I like the me at closer to 30 better than the me at closer to 22. I like my number, and I think it's pretty awesome.
Just like my headband.