We've seen family, we've seen snow, and now it's time for...
Christmas Tree 3 aka The Santa Tree
My mom has collected Santas for as long as I can remember. You knew it was Christmas time when the Santas started coming out. So, when selecting themes for the skinny trees we wanted to theme decorate, there was no question that one of them would need to be a Santa tree.
Skinny tree with red glass balls, glass Santas in antique designs, and assorted other fun Santas we had. All wrapped up with candy cane ribbon.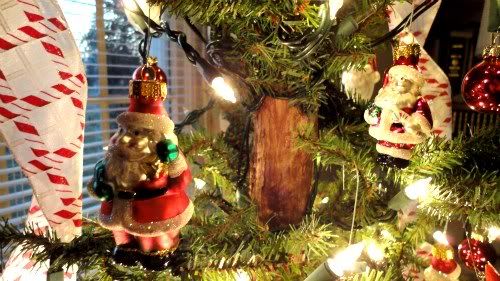 I was bummed that I didn't get the chance to put up a Christmas tree in St Andrews this year, but I just didn't have the cash lying around to bother getting a tree and all the ornaments to make it as epic as the ones I've done before. But I was bummed because for me, the tree is the holiday. I love my tree. I love the gaudy ornaments, I love the fakeness of it so I don't have to worry about a dead tree rotting, and I love that when I set a Christmas tree up, it automatically feels like the holidays. Christmas trees also remind me of my mom, since that's our thing over the holidays. And it's nice to have something of family at the holidays.
Next year my epic tree is going up no matter what country I'm in.