I admit, I miss a lot of food from back home. Flavors, brands, the fact that salsa can have actual heat in the States, but every now and then I find something in the Tesco that makes me go 'why don't we have this in the States??'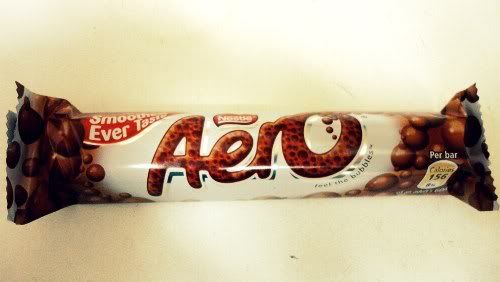 Sweet mother of Hershey, why don't we have this in the States??
For those who've never had a taste of this amazing little concoction, it's a solid milk chocolate bar. Pretty standard. However! It's been aerated, so the bar is full of little bubbles. Why would you want bubbles in a candy bar? I'm glad you asked.
The bubbles make the chocolate melt. on. your. tongue.
It tastes lighter, melty-er, choclatey-er.
Mars bars are great, Galaxy bars good, but this... oh, sweet Aero bar, why are you not in the States and therefore present me with the sad fact that at some point I will have to leave you and not have you again? Not cool, candy gods, not cool.
I feel like I should mail a box home, just to share the love.