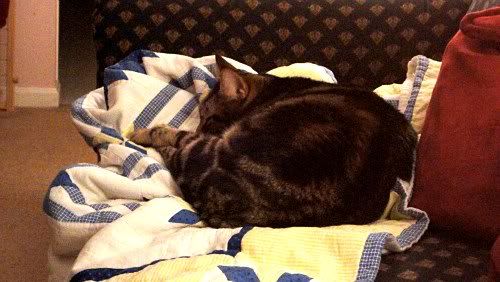 The family cat, who thinks he's people. Or thinks he's better than people -- we're not too sure on that. But he sure does have the lazy option down pat.
The last Saturday before I head back across the pond to the UK, and how do we spend it at my parents' house? Lazy. My sister and my niece are hanging out, I think only two of us actually bothered to put on anything other than pajamas today, and we've done a whole lot of... nothing.
Delightful, relaxing nothing.
Classes are going to start up quickly once I get back, and I'm already waiting on a book for next semester to show up from Amazon so that I can start before the first class. But for right now? I'm going to be lazy. And I'm going to enjoy being lazy.