With essays turned in I can finally relax for the last little bit of my stop at home. Which probably means that I should do some cleaning up in my room because there's still the tell tale explosion of Christmas around. Although it makes me feel better that it's not the only sign of Christmas still around.
In true family tradition, the Christmas tree is still up. Oh, we've taken the ornaments down and packed them away, but the tree itself it still sitting proudly in the middle of the room because it hasn't made it back up to the attic. When will it get up there? Well... maybe before I head back to Scotland. Or maybe not. I'm taking bets on 50/50 at the moment.
So, I thought that I'd share a few pictures of one of my favorite parts of the holidays -- my trees -- since I didn't during the ACTUAL holiday season.
Christmas Tree 1 aka The Family Tree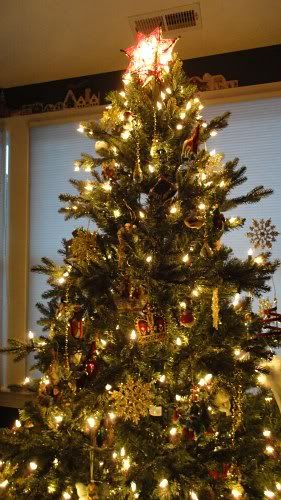 The main event. Ole Faithful. The tree cluttered with family memories, handmade candycane ornaments, and year after year collectables. The one that sits there and says hello as we gather round and open presents on Christmas morning.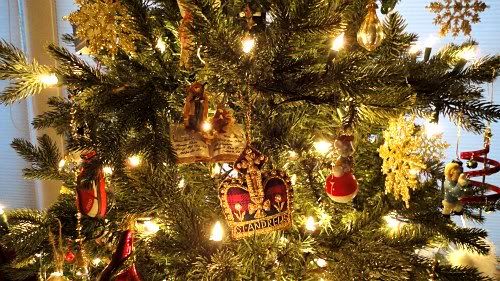 It's less cluttered this year as my sister has taken her box of ornaments to her house to put on her Christmas tree, and I wasn't here to put my entire box of ornaments on as I didn't get into town until a few days before Christmas. But homey all the same.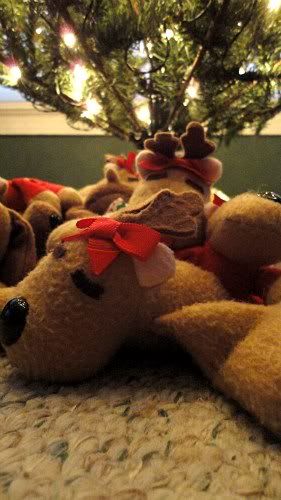 The pile of reindeer under the tree. The pile of awesome reindeer that we got from Burger King back in the late 80s/early 90s and have made Christmas appearances ever since. They are a favorite of both the niece and the cat for obvious reasons.
Next time: Decorative Trees