I spent Saturday in the loving academic embrace of Aquinas and friends, which meant that by the middle of the afternoon I was desperate to do something, ANYTHING, different from what I was doing. And since it was a nice day, it was worth it to walk to the big grocery store. It's amazing how differently you think about things when you don't have a car and you have to decide 'is a mile and change to far to walk today for the big grocery store' and 'make sure that I don't buy too much cause it would be too heavy to carry' and 'I could always grab the bus, now where's an extra £1.20 around here...' I'm very aware of how privileged I've been in the past now, as this is my first time without ready access to a car.
But it was a pretty day, I felt like doing some cooking, and they just didn't have all of what I needed at the Tesco around the corner. So I made the hike to the second of three grocery stores in town.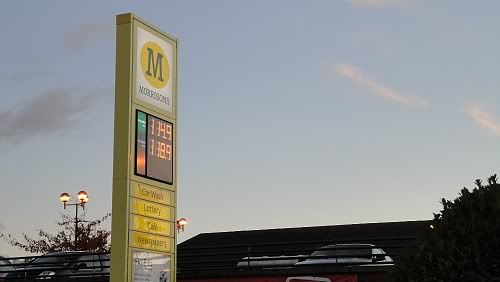 Why, hello Morrisons! And gah, perhaps it's not a terrible thing that I don't have access to a car. Unless my math is failing me, £1.14 per litre ends up just a little over $8 per gallon. Holy expensive gas, Batman! Remind me not to complain about $3 gas when I get back to the States...
Anyway, hello Morrisons. You had my sage, and my ziploc bags (I've lasted a month without them cause my flatmates didn't seem to need them, but again, I use the heck out of ziploc bags), but you didn't have the butternut squash that I was craving. Alas, no one's perfect. But you also had tea on sale, so I'll forgive you this time.
My desire to bake (and I'll use bake loosely because the precision of baking often eludes me) came about because of running across this recipe:
Spinach Strata with Sage and Gruyere
If the name didn't entice you, how about a picture of the finished product?
One of the worst parts about my little student housing kitchen is that the oven doesn't have a window for me to obsessively watch it cook. But you mix it up, and then 45 minutes later you get this delightful creation. It's warm and carb-y and cheesy and tastes very much like fall. So worth the walk and the late cooking!



Spinach Strata with Sage and Gruyere



Ingredients:


1/2 baguette (to yield about 6 cups of torn bread)
1 tablespoon softened butter, plus 3 tablespoons melted butter
3 eggs
2 1/2 cups milk
2 tablespoons fresh sage, torn
1/2 teaspoon salt
Freshly ground black pepper
2 medium cloves garlic, minced (about 2 teaspoons)
1 1/2 ounces baby spinach (about 1 1/2 cups)
3 ounces Gruyere (about 1 1/2 cups, grated)
1 ounce Parmesan cheese, grated

1. Cut the bread into slices about ¾-inch thick. Set on the counter for several hours to dry out, or toast the bread in a 400°F oven for about 5 minutes. Tear each slice into several pieces. You should have about 6 cups.

2. Grease an 8-inch by 9-inch casserole dish with 1 tablespoon softened butter.

3. In a large bowl, whisk the eggs until frothy. Whisk in milk, sage, salt, pepper, melted butter, and minced garlic until homogeneous.

4. Add the torn bread to the custard, mixing to make sure every piece absorbs some liquid. Stir in spinach and Gruyere. Pour the bread-custard-spinach mixture into prepared casserole dish. Sprinkle with Parmesan and top with more freshly ground pepper. Cover with plastic wrap and allow to sit for 1 hour on the counter, or several hours in the fridge.

5. Preheat the oven to 375°F (191°C) about 20 minutes before you're ready to bake the strata.

6. Bake until the top is browned and slightly puffed and the strata is cooked through, about 45 minutes. Let rest a few minutes before serving warm.


Courtesy of Serious Eats

Nom nom nom...