One of my favorite things to do (especially when I need to take a breather from whatever is stressing me out at the moment) is to go out and wander around town at sunset. Which, to my delight, is getting later and later as we slowly make our way towards summer. As of right now, sunset is around 8:50pm and quickly making its way later.
I needed some fresh air, so I made my way down to West Sands, the beach next to the Old Course on the west end of town. Not to be confused with East Sands... unsurprisingly, the beach next to the harbour on the east side of town.
I like names that make sense.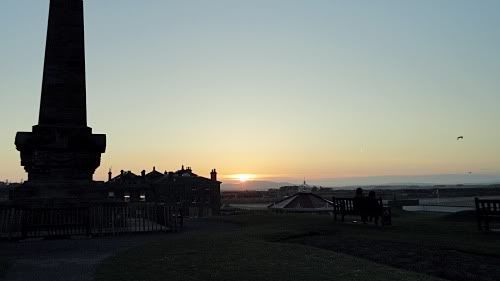 For anyone who's seen
Chariots of Fire
, this is the beach where they filmed the beach running scene at the beginning of the movie. I haven't seen the movie, but that's what the little plaque at the end of the road tells me.
And in celebration of that fact, the town is hosing
Chariots 2011
, a 5K run in May to celebrate both the 30th anniversary of the movie and to raise money for Sue Ryder, a hospice charity. Run along the beach, dress in all white, splash around in the water, and get a t-shirt.
For some reason, especially as I sit here and stuff my face full of gummy bears from the easter basket my parents sent to me from across the pond, I'm considering doing this. Mainly for the t-shirt. I do love a good t-shirt. It's been a long time since I ran, but it's only 5K. It's a good excuse to get outside and enjoy some sunshine. And did I mention I get a t-shirt?